About the College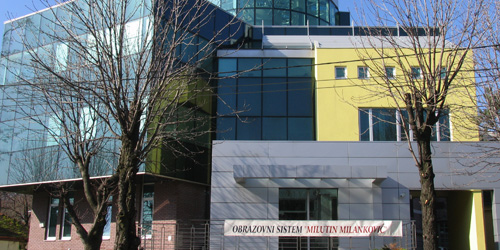 The College first appeared in the school year 2005/2006, as one of the branches of 'Milutin Milankovic' educational system; it was the first private educational institution which provided higher education of students within the area of health care.
The College of Higher Education was established on June, 14, 2005 by the management board of the Founder, Interspeed Trade Company located in Belgrade, which deals with internal and foreign trade.
'Milutin Milankovic' High Medical College of Professional Studies was founded in 2007, representing the first educational institution in Serbia which provides high degree education in the domain of health care.
The student profiles with official accreditation are:
Professional Nurse – Technician 
Professional Therapist - Physiotherapist

Professional Radiology Technologist

Professional Nurse – Technician Specialist of Intensive Care
Duration of schooling in 'Milutin Milankovic' High Medical College of Professional Studies extends to three years or six semesters. 
Students acquire knowledge and skills through lectures, exercises, practice, seminars, and consultations, organized by experienced and highly professional staff. Our students become experts with high degree education in the field of health care and they can apply their knowledge and skills in various health care institutions, sports centres, spa and wellness centres, in our country or abroad. Cotemporary syllabus and education system follow the European and world trends.

Over-qualification according to the Bologna Declaration program


The College enrolls all the students who want to obtain high degree vocational education at the appropriate level by acknowledging exams and providing opportunities for taking differential exams.

Simultaneous Study and Work


Everyday consultations and tutorials provide opportunities for successful study for employed people.

Continuous Education


Apart from regular syllabus, the College offers special teaching programs for self-improvement, which are organized in the form of seminars and tutorials.
The head office of  'Milutin Milankovic' High Medical College of Professional Studies is located in Belgrade, as well as the College management, student service, modern study rooms and amphitheatres where the lectures are held. Student practice is performed in school bases which include the most eminent national health care institutions in Belgrade and Serbia.
Working license for the College acquired and all programs accredited for 5 more years on 07.07.2017.